---

---

Would you prefer to make smaller payments over time vs. a larger upfront investment? PayPal and PayPal Credit are now available for web orders! We also continue to accept Visa, MasterCard, Discover, American Express, and check-by-phone payments. The PayPal Credit option can approve you for interest-free payments for 6 months. When viewing your online cart, select the checkout option that works best for you: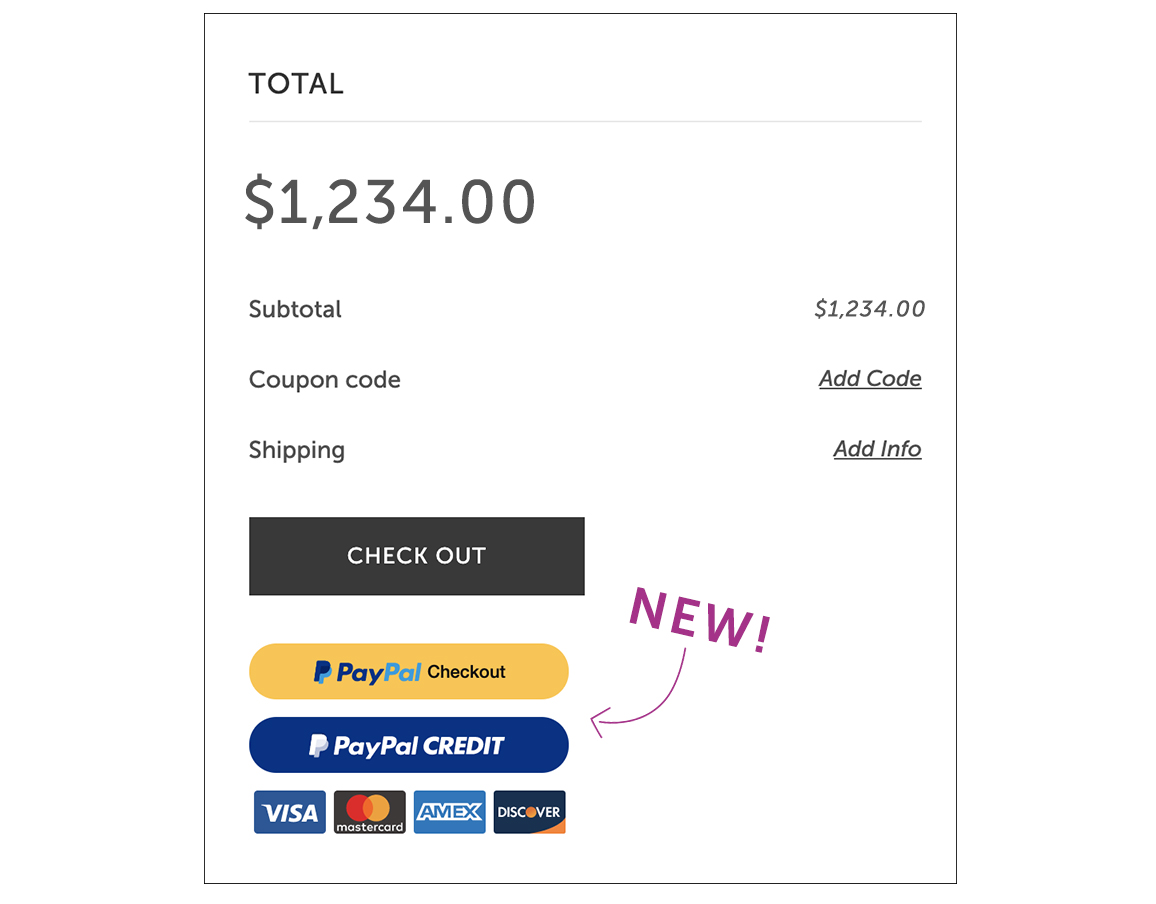 After you hit the PayPal Checkout button, you will be able to select from more flexible payment options:
For more information on PayPal credit click here, or call 1-844-373-4961.
Prices are subject to change without notice due to unforeseen cost increases of imported products. Any imposed tariffs on imported goods into the United States may be added to the selling price.
Revolution, Tenth House, and Curtsy sell exclusively to dance studios in the US, Canada, and Puerto Rico. New accounts may apply for an account online or by calling us at 800.806.1157.
Orders can be placed by phone, online, mail, and fax. No minimum order required. To order online, apply for an account at revolutiondance.com or by clicking HERE. Customer Service will review and approve new accounts within one business day.
You will receive a confirmation email for all orders placed. Please review carefully to make sure your order is complete and accurate.
Revolution Dancewear has a minimum advertised pricing policy that all customers agree to follow when purchasing from us. Please visit revolutiondance.com/map to view the details and policy in detail.
A majority of our products are in-stock and ready to ship. At times, popular products will have future ship-dates. Product availability is provided online for each item under the "check availability" button found on the product page. The inventory stated online for each product is refreshed frequently; however, if you have placed an order for an item that recently went out of stock, we will call you.
---
REVOLUTION GUARANTEE
Revolution's priority is our studio partners. If one of our products fails to meet our high-quality standards, we guarantee that we will replace it at no additional charge. We want you to be 100% satisfied with our products, and with our 45-day return and exchange policy, you can have peace of mind when partnering with us.