---
---
Our Tights Reward Program is the BEST deal in the industry! For every $100 you spend on tights in a single order, we will give you $50 in REV Dollars to use on a future purchase.
RevCash* are marketing rewards that have an expiration date and can be used on all products. For every $100 you spend on tights in a single order, you will receive $50 in RevCash to use on a future purchase.
*RevCash cannot be combined with other discounts. RevCash will not count toward rebate-eligible spend for Dance Studio Owner Rewards members and will be deducted from total rebate-eligible spend if used toward costumes. Dance Studio Owner members may use vouchers toward REV RACK costume purchases in combination with their year-round member discount.
RevCash awarded between June 1, 2022, and May 31, 2023, will expire if not used by June 30, 2023. RevCash earned in June 2023 will expire on June 30, 2024. To redeem your RevCash, simply call 800-806-1157 to place your order. RevCash cannot be redeemed on online orders or through Nimbly.
REVOLUTION REWARDS PROGRAM
Our Revolution Rewards Program is the only costume discount program that gives you cash back!
Looking for a costume discount program with no minimums, no early deadlines, and cash back when you need it most? Then look no further.
Our Revolution Reward Program through Dance Studio Owner Membership is the best loyalty program in the industry. Earn up to 20% cash back on every dollar you spend on costumes, all season long. And the benefits don't end there.... Dance Studio Owner membership provides you access to everything you need to run a successful studio -- while keeping your passion for dance alive.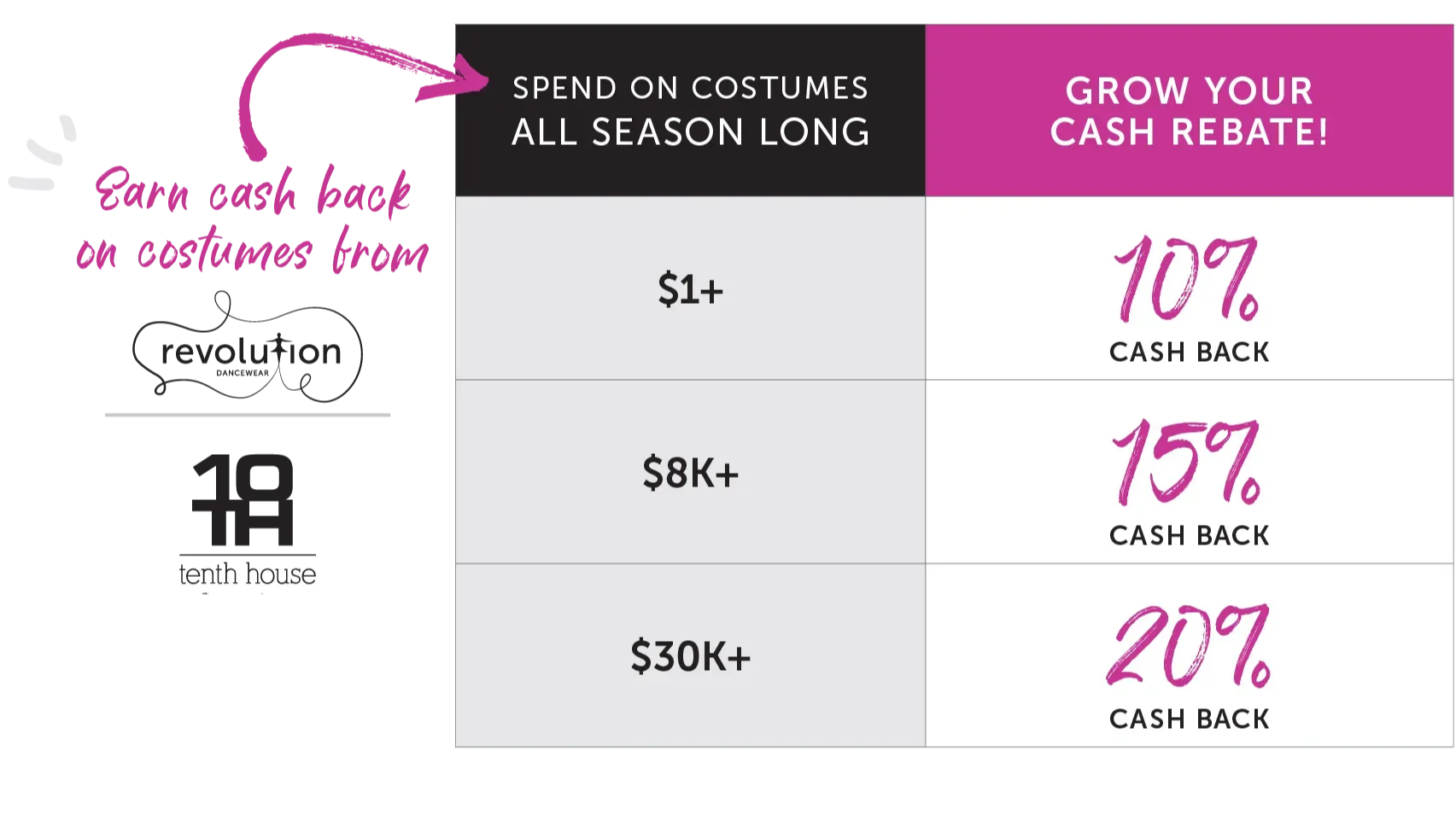 We've made it easier than ever to join the program! Join today and pay nothing*. There's zero risk!
*At the end of the season, we will conveniently deduct your $399 membership fee from your total rebate payable...that means the program starts paying you with a $4,000+ cumulative costume spend.
STUDIO ESSENTIALS GRANT PROGRAM

Dancewear that gives back!
Our Studio Essentials Grant Program is a unique initiative designed to provide studio owners with grants and resources ranging from $500 to $5,000 that can be used for things like dance scholarships, facility improvements, and teacher education.
Every dancewear item purchased helps to grow the grant fund. Our grants are funding dance scholarships, teacher education, and much more for studios across North America.
---